Incoming Exchange Students
Incoming Exchange Students
Our students come from 47 different countries
And, this number is consistently growing. Our community prides itself on embracing international students and their cultures and making every student feel accepted on our campus. The navigation menu on the left will help you find all of the information you need to begin the application process for Stetson University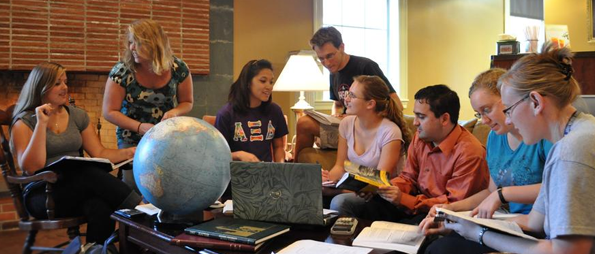 At Stetson University, we dare students ...
to push beyond their comfort zone
to go far beyond success
to be significant
A Stetson University education helps students do all three, and more, through inspired learning, attention to values, and valuable life experiences.
There's a big difference in the way StetsonU approaches education, compared to schools with student populations the size of cities.
Stetson University: Our students engage in small-group learning, in classes led by Ph.D. professors who share expert knowledge, serve as mentors, and teach students how to apply what they've learned. Students practice skills in real-world settings. Professors conduct research with undergraduates. Students learn how to think critically and creatively, surmount challenges and solve problems. These important skills are needed no matter what 21st century profession or career a student moves into after graduation.
Others: Students are unable to receive individual attention because they are in giant lecture halls with 300 other people, and are often taught by grad students. Professors teach hundreds, not handfuls, which leaves scant time for mentorship or one-on-one discussions. Information is imparted, but facts alone don't provide a well-rounded education.
At Stetson, life begins the day students walk on campus, not four years later at graduation. Residential campus life grants students the space and opportunity to develop their social and leadership potential.
The Stetson combination of academic excellence, lively campus life and attention to civic and social responsibility positions students to reach their full potential as informed citizens of local and global communities. Students graduate with a professional skill-set, independent judgment, a global perspective, a grounding in ethics and a strong sense of leadership.
Stetson students do more than succeed. They become significant.

As Florida's first private university, Stetson University has set the standard for excellence in many ways since being established in 1883.
Stetson was the first private university in Florida to be granted a chapter of Phi Beta Kappa, the nation's oldest and most prestigious undergraduate honors organization.
The Stetson College of Law was the first law school in Florida.
The College of Law was the first in Florida to admit women.
The first woman lawyer in Florida to earn a law degree graduated from Stetson College of Law in1908.
Stetson was the first private university in Florida to enroll African-American students.
In Florida, Stetson University played the first intercollegiate basketball games (both men's and women's), the first intercollegiate baseball game and the first intercollegiate football game.
The School of Business Administration was the first in Florida.
The School of Music was the first in Florida.
Stetson is home to the first college newspaper in Florida, The Stetson Reporter, founded in 1887.
The Eugene M. and Christine Lynn Business Center was the first building in Florida to be certified a green building by the U.S. Green Building Council under its Leadership in Energy and Environmental Design (LEED) Green Building Rating SystemTM. The designation was awarded in 2003.
Stetson's Elementary and Secondary Education Programs were the first in Florida.
Stetson's Geography Program was the first in Florida.
Stetson is home to the first college-level Model Senate program.
Stetson had the first collegiate theatrical company in Florida.
The Stetson University Center at Celebration, which opened in September 2001, is Osceola County's first university campus.
Stetson was the first educational institution to receive a Year 2000 Sustainable Florida Award honoring implementation efforts and community involvement in environmental issues.
Investigate why Stetson University's students are significant
Visit the Stetson University duPont-Ball Library's
Digital Archives
to learn more about the university's history, and to view photographs, yearbooks, catalogs and special collection memorabilia.