Faculty-Led Course Approval Process
Faculty-Led Course Approval Process
Are you a faculty member interested in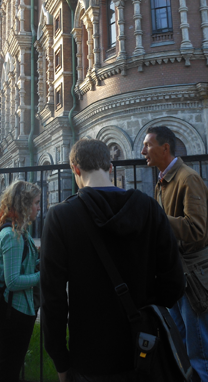 creating and leading a faculty-led study abroad program?
World:The David and Leighan Rinker Center for International Learning has made it easy through their step-by-step instructions on creating your own program; from choosing a destination to advertising the program to students, this page will help you do just that.

To learn about how to lead a faculty-led program, please view the faculty-led study abroad approval process.
SU Travel Guidelines
Choosing a Destination and Type of Program
Faculty choose study abroad destinations for a variety of reasons, including a) existing contacts, b) prior experience traveling/researching abroad, and c) field of interest. The most successful faculty-led programs are conducted in countries where the faculty member has contacts who can help facilitate meetings or make other arrangements. The type of program also varies depending on the faculty leader and subject matter.

You may want to consider the following questions:
Will the program be based in one city/town with side excursions, or will it involve traveling within one country or to several countries?
Will the students stay in a home-stay, dormitory, hostel or hotel?
How long will the course be and during which session? Some programs have on-campus sessions before and/or after the study abroad component; others have an online component in advance of travel; others take place only while abroad. Length of program can vary from one week abroad to 10 weeks abroad.
To have a study abroad course approved, the interested faculty member must complete a Faculty-Led Proposal Form (follow link below).

Faculty should keep in mind the following when completing the form:
To which group of students is this course geared? Choosing the course offering while keeping in mind the students' needs is important in making sure you are targeting a large enough group to ensure minimum enrollment numbers.
If applicable, include both undergraduate courses and graduate courses. Often, study abroad courses include a mix of undergraduate and graduate students, with different advanced-level coursework required of those enrolled in the graduate course.

Creating a Budget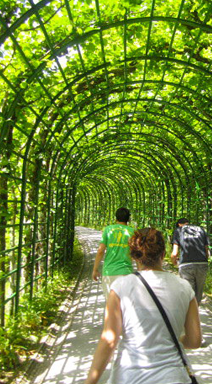 Once your proposal has been submitted, the Study Abroad Office will assist you in creating a program budget.
The following costs are included in the program budget:

Application fee, student room and board, guide fees/entrance fees, in-country transportation, and faculty costs. The budget also notes the estimated amount of spending money the student will need along with other costs, such as airfare, passport fee and/or visa fee (if needed) and textbooks. Faculty costs include faculty lodging, per diem/M&IE, transportation, and any other relevant costs. Faculty costs are allocated out by the minimum number of students required for the program.

Per diem is calculated at 50 percent of USG per diem or $100 max (whichever is lower), as of the day of the budget submission. USG per diem levels can be found at the U.S. State Department.
Other costs included in the budget by GLE are marketing posters, contingency (currently 10 percent), insurance (1 dollar/day per student) and a fee for group materials.
The Budget Workbook can only be accessed by starting the Faculty-Led Proposal.
Advertising the Program
Once the proposal has been approved and the budget finalized, World: The David and Leighan Rinker Center for International Learning will create a program brochure and release it via the online application system. In addition to advertising through SU-International's media campaigns, World: The David and Leighan Rinker Center for International Learning will advertise the programs at campus-wide study abroad fairs held in the fall semester, as well at it's daily Study Abroad 101 Session. Furthermore, World: The David and Leighan Rinker Center for International Learning staff will do campus presentation to as many core requirement class as possible to increase exposure to study abroad.
After the Application Deadline
Faculty members are provided access to World: The David and Leighan Rinker Center for Internatioanl Learning on-line application tracking system to approve applicants and view the current program roster.
Application Fee: Students will apply for the program through the Study Abroad online application system. The applicant is not considered in the program until the application fee is paid at on-line
Payment: Students will pay the program fees through Student Accounting Services as they do tuition.
World will conduct a series of mandatory pre-departure training sessions for faculty and students in preparation for leading a group.
Faculty Training Sessions

occur throughout the fall and spring semesters and include sessions on the following:
FERPA, HIPAA, the SU Honor Code and study abroad
Emergency health and safety situations: What to do? Where to go? Whom to call?
Health and accident insurance
Student and parent expectations
Failure to attend a session could result in program cancellation!
Student Pre-departure Orientations

occur during the spring semester and include information on the following:
SU's health and accident insurance
Personal health and security
Culture shock and cultural adaptability
Money matters and financial aid
What to pack
Failure to attend a session could result in a student offer of admission being rescinded!